Diet drinks, also known as sugar-free or artificially sweetened beverages, have become increasingly popular in recent years, especially among individuals with diabetes. As the prevalence of diabetes continues to rise worldwide, many people are looking for ways to manage their blood sugar levels and improve their overall health. However, there is still some debate about the safety and effectiveness of diet drinks for people living with diabetes or those seeking to avoid it. In this blog, we will explore the effect of diet drinks on diabetes and your general health plus we'll offer some tips for incorporating them into a healthy diet.
First, let's take a closer look at what diet drinks are and how they are different from regular soft drinks. Diet drinks are typically sweetened with low-calorie or calorie-free sweeteners such as aspartame, sucralose, or stevia, instead of sugar. This means that they contain fewer calories and have a lower glycaemic index than regular soft drinks. (Simply put they won't spike your blood sugar). As a result, diet drinks are marketed as an healthier alternative to regular soft drinks, especially for people with diabetes who need to control their blood sugar level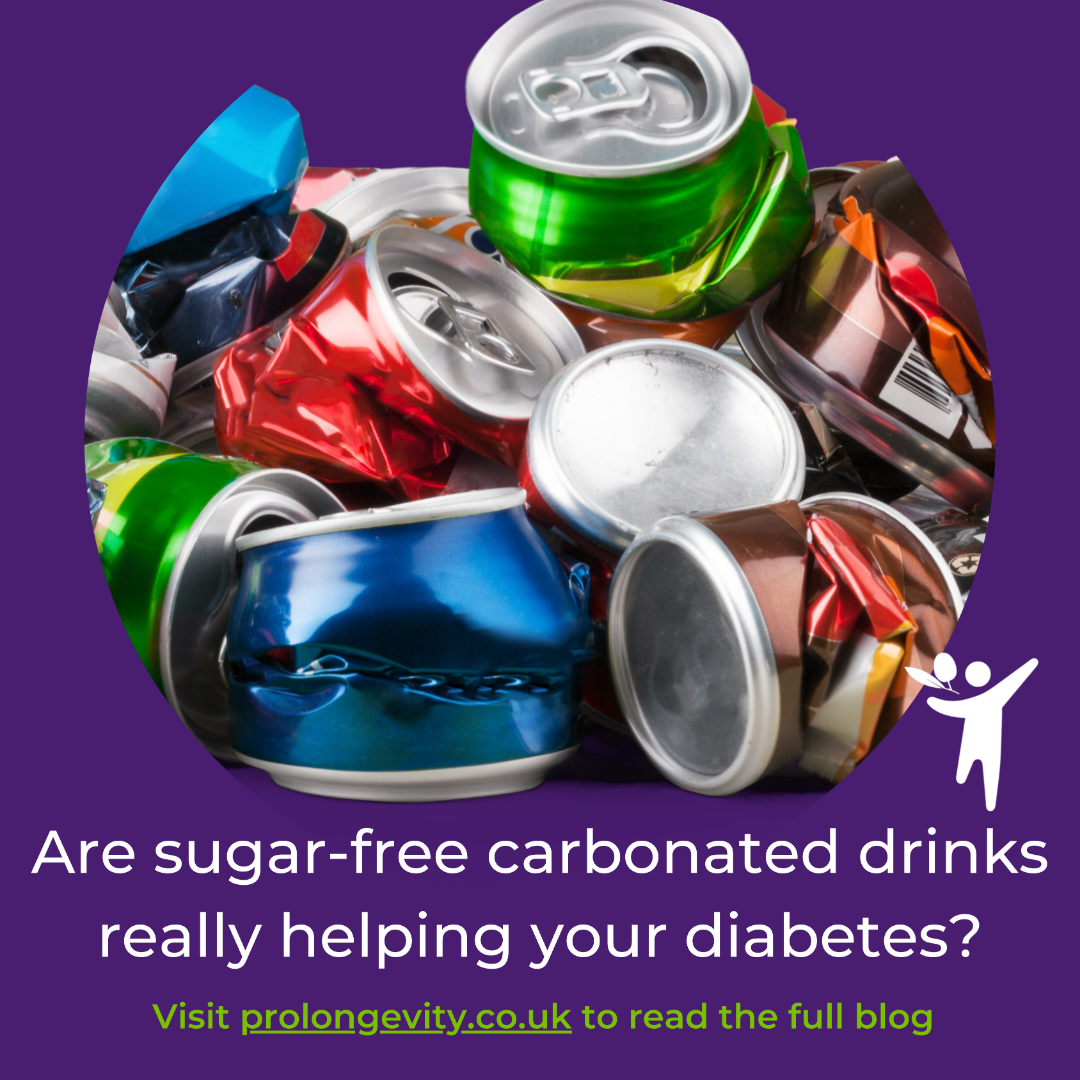 However, the safety and efficacy of diet drinks for people with diabetes are still being debated. Some studies have suggested that consuming diet drinks may increase the risk of developing type 2 diabetes, as well as other health problems such as obesity, cardiovascular disease, and kidney damage. This is because the artificial sweeteners used in diet drinks may still affect blood sugar levels and insulin sensitivity, even though they do not contain sugar.
On the other hand, other studies have found that consuming diet drinks in moderation may be safe and even beneficial for people with diabetes. For example, a 2019 study published in the journal Diabetes Care found that consuming diet drinks in place of sugary drinks was associated with lowering the risk of developing type 2 diabetes over a 16-year period. The study also found that consuming moderate amounts of diet drinks did not have a negative effect on blood sugar control or insulin sensitivity.
Other studies show that (some) sweeteners have an adverse effect on the microbiome.
As ever with our health things are always way more complex than we might first think. That's why the ProLongevity "precision nutrition" approach is the right one
Other Considerations.
So, what does this all mean for people with diabetes who are considering incorporating diet drinks into their diet?
The key is to use moderation and balance when consuming these beverages. While it may be tempting to switch to diet drinks to satisfy your sweet tooth and keep your blood sugar levels in check, it is important to remember that these beverages are not a magic cure-all. While sugar-free drinks can be a useful tool in managing diabetes, they should not be the sole focus of a diet. Eating a balanced diet that includes a variety of nutrient-rich foods is crucial for overall health and well-being.
If you do choose to consume diet drinks, it is important to be aware of the potential risks and to use them in moderation. Here are a few tips for incorporating diet drinks into a healthy diet:
Pay attention to serving sizes.
While diet drinks may be lower in calories and sugar than regular soft drinks, they still contain artificial sweeteners that can affect blood sugar levels. Be sure to follow serving size recommendations and limit your consumption to no more than one or two servings per day.
Stay hydrated with water.​
Diet drinks can be a good way to satisfy your sweet tooth, they should not replace water as your primary source of hydration. Drinking plenty of water is essential for maintaining overall health and managing diabetes. We are big fans of fizzy water which add interest to your palette without damaging your health
Not all diet drinks are created equal.
Be sure to read labels and choose beverages that are sweetened with natural sweeteners such as stevia or monk fruit and avoid those that contain high amounts of artificial sweeteners such as aspartame or sucralose.
Consider other alternatives like black coffee and/or herbal teas
Diet and sugar-free drinks can play a useful role in managing diabetes. A diet that includes a variety of nutrient-rich foods can help regulate blood sugar levels, while sugar-free drinks can be a good alternative to sugary beverages. However, it's important to check nutrition labels. Maintaining a healthy weight, exercising regularly, and monitoring blood sugar levels are also important for overall health and well-being.
With our weight loss, lifestyle, and nutrition programme and coaching with ProLongevity, we can give you the lifelong tools you need to lose weight, reverse or prevent type-2 diabetes, and reduce your risk of life-limiting health problems, including dementia & heart disease.
Through consistent glucose level monitoring and expert nutrition and lifestyle coaching and guidance, we'll help you fuel your body in a way that is truly healthy for you. There are no drugs, no calorie counting, and no hunger. Just simple, stepwise changes to your diet and activity that work for you, your biology and your lifestyle.
ProLongevity Gold can help you, too, for as little as £3.90 per day.
BOOK A FREE CONSULTATION
You can get help immediately by signing up for a free (no obligation) 15-minute consultation with the founder of ProLongevity. We can support you in maintaining your New Year regime!
Graham Phillips, our founder of ProLongevity, is a registered pharmacist, Fellow of the Royal Pharmaceutical Society and the owner of iHeart Pharmacy Group, a multi-award-winning community pharmacy group based in Hertfordshire and Kent.
ProLongevity was founded in 2017 with a lofty aim: to help people all over the world to live longer, healthier, happier lives. Since then, we've helped hundreds of people to transform their health through simple yet powerful lifestyle changes.
Are Sugar-Free Carbonated Drinks Really Helping Your Diabetes?