The 21 day immunity plan

Last week's special ProLongevity guest was Dr Aseem Malhotra, https://doctoraseem.com/.
Known as one of the most influential cardiologists in Britain, Aseem is successfully leading the campaign against excess sugar consumption.
Graham and Aseem discuss Aseem's latest book "The 21 day immunity plan"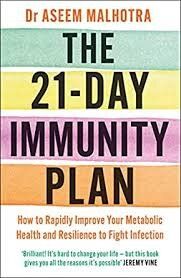 "Aseem nails it. It's hard to change your life — but this book gives you all the reasons it's possible. Reading this book was like a penny dropping If you are overweight and unhappy about it, Aseem Malhotra is on your side. Not just about what we eat, but about who we are. Brilliant! Far better to read Aseem in this book than end up having to see him as a patient.
Jeremy Vine, BBC broadcaster and writer.
Graham and Aseem discuss how simple, incremental lifestlye changes can transform your health and massively reduce your Covid risks. Everything that Aseem suggests is integral to the ProLongevity program. Aseem's book and our program complement each other perfectly. Aseems sets out the principles of what you need to do to optimise your health. We are all different which is why one-size–fits all approach doesn't work, ProLongevity is your personalised, proven implementation strategy.
The 21 Day Immunity Plan – Dr Aseem Malhotra Interview