Bulletproof Coffee
Introduction
Here in the UK, coffee is the most popular drink to be consumed. We drink approximately 95 million cups of coffee per day. But have you noticed that after you drink coffee, you can feel drained and eventually have an energy crash midway through the day? This is especially true if we add sugar in one form or another…..we drink the coffee but don't appreciate the downsides!
Well there's a healthy option to make your coffee stick within the restrictions of your diet which allows your energy to be maintained throughout the day: I give you.."Bulletproof" Coffee.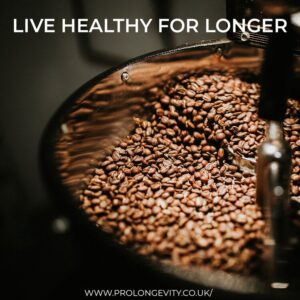 So What is Bulletproof coffee?
Bulletproof Coffee is a coffee drink filled with healthy fats, made with coffee, grass-fed butter, and MCT oil. It has many added health benefits that you don't get from a regular black coffee.(Multiply ten-fold by comparison with a sugar-added version!) You can have Bulletproof coffee in a range of different diets, including the paleo, low-carb and ketogenic diets, intermittent fasting and even One Meal a Day (OMAD).
How to make it:
All you need is:
1 cup of hot brewed coffee.
2 tablespoons of unsalted butter.
1 tablespoon of MCT oil or coconut oil.
What is it good for?
Bulletproof Coffee contains ingredients that satisfy hunger, kick-starts fat-burning and thereby supports cognitive function. Add grass-fed butter, because it is full of nutrients and healthy saturated fat. It doesn't contain the chemicals associated with vegetable aka seed oils.
Adding MCT Oil will assist in burning fat and help you feel energised and focused. The reason why drinking certain regular coffees can make you feel drained is because they're full of toxins. By contrast Bulletproof coffee is made from Arabica coffee beans which contain no toxins.
If you're on the ketogenic diet (Keto) then MCT Oil converts to ketones, which are a much healthier alternative to the glucose your body usually uses for fuel. Ketones reduce your hunger hormones and thus curb your appetite, so you may find that you have fewer cravings.
It's also great for breakfast. The fatty acids in grass-fed butter and MCT Oil fill you up and provide steady energy levels so you avoid the mid-day crash that you would get from other breakfast drinks such as fruit juices.
Conclusion
So is Bulletproof Coffee right for me?
On one hand, it makes people feel better, keeps their blood glucose low, and it stops them from feeling hungry throughout the day. On the other hand, drinking it every day might starve you of the nutrients you need from a balanced diet. So its not a panacea. It comes down to the individual which explains why some people report that bulletproof coffee drastically improves their energy levels, while others just don't get on with it. We're all different and that's why Precision Nutrition is key
If you would like to find out more about ProLongevity and discuss any health concerns with Graham, click here to book a free 15-minute consultation. Graham can guide you through the process and answer all your questions.
So what is bulletproof coffee?