Kellogg's, Britvic and Mars join other leading food and drink companies to criticise Government proposals that could see a ban on junk food adverts
Downing Street has unveiled plans to implement a total ban on online junk food advertising – the toughest digital marketing restrictions in the world – in an attempt to tackle the UK's growing obesity crisis.
While health campaigners have welcomed the proposed ban, which is now subject to a six-week consultation, it has apparently "stunned" the advertising industry. Kellogg's, Britvic and Mars are among the leading food and drink companies to slam Government plans that could see a ban on the online advertising of unhealthy foods.
They claimed (without providing any evidence ) that the restrictions would 'disproportionately impact' on small and medium business which make up the majority of the sector.
But the government estimates children aged under 16 were exposed to 15 billion junk food adverts online in 2019, versus 700 million two years earlier.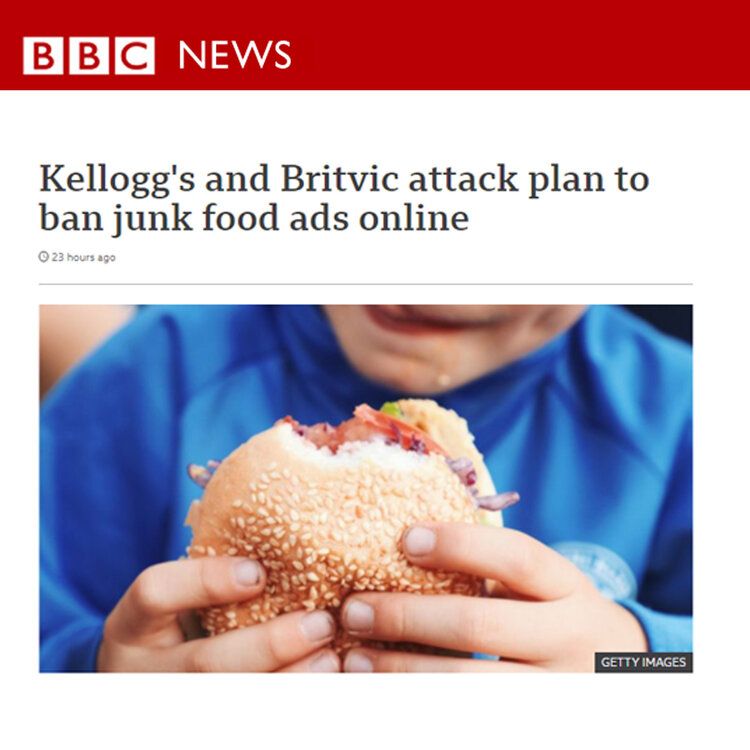 Plus, recent studies have found that compared with this time last year, children are eating one extra meal and have added nearly five hours of screen time per day, while also cutting physical activity by more than two hours a week. So with the additional exposure to online ads, they are more influenced to eat these sugary, highly-processed treats. In fact we in the UK are Europe's highest consumers of ultra-processed foods with over 50% of calories come from "junk". Rates of Junk food consumption tracks closely not just with obesity but also type2 diabetes, heart disease, dementia and some cancers.
The new rules, which go much further than proposals in the summer, would affect foods deemed to be too high in fat, salt and sugar. However, a range of foods, from avocados and marmite to jam and cream, could be caught inadvertently alongside what is viewed as traditional "junk food".
Matt Hancock, the health secretary, said: "I am determined to help parents, children and families in the UK make healthier choices about what they eat. We know children spend more time online. Parents want to be reassured they are not being exposed to adverts promoting unhealthy foods, which can affect habits for life."
The tougher-than-expected rules came after Boris Johnson changed his view on personal health decisions following his personal battle with COVID-19. With one in three children leaving primary school overweight, or obese, they are being put at risk of developing life threatening conditions such as diabetes as well as becoming more susceptible to contracting COVID-19.
A Public Health England (PHE) study published in August discovered that being classed as medically obese alone increased the risk of death from coronavirus by 40%. But obesity is just the tip of the iceberg. Add type2 diabetes and hypertension (all caused by a diet high in sugar, carbs and processed foods) to the mix and you have a recipe for disaster.
If implemented, the ban would affect digital marketing, from ads on Facebook, to paid-search results on Google, text message promotions, and social media activity on Twitter and Instagram.
But in a letter to Prime Minister Boris Johnson, posted on social media on Sunday, food and drink industry leaders branded it a 'disproportionate proposal with an impossibly short time period' for response.
Bosses said: 'The UK Government is quite correctly committed to evidence-based policy making. However, the evidence base underpinning these proposals is lacking in both detail and efficacy.'
"This would be a world-leading policy to improve children's health," said Fran Bernhardt, coordinator of the Children's Food Campaign. "Online adverts have cast unhealthy food in the starring role for far too long. The current regulations are inadequate to protect children. Companies advertising healthier foods have nothing to fear."
Of course we've heard all of this before- not least from Big Tobacco who, to this day, deny the evidence of harm that smoking causes. Different industry, same playbook!
ProLongevity could be the answer:
ProLongevity implements the latest scientific and clinical strategies over an 8-week period to eliminate the root causes of the epidemic of type2 diabetes and other serious life-limiting conditions like obesity, hypertension, heart disease, and the risk of strokes.
A LIFESTYLE NOT A DIET!
Our totally personalised, bespoke service gives you a health-professional coach who works with you on a 1-2-1 basis to establish what foods and drinks are truly healthy for you, as well as the ones to avoid. We help you establish and introduce healthy lifestyle choices. These are a series of small, incremental life-style changes to improve your diet and general wellbeing. There is none of the typical calorie counting or hunger associated with normal dietary advice. Instead we gradually replace the foods which spike your sugars with others that don't but are full of essential vitamins and minerals.
Food industry faces a tough fight against Johnson's HFSS ads crackdown