Despite popular belief, walking can actually help you build stamina, burn excess calories, make your heart healthier, and even reduce dementia risks. Don't underestimate the power of walking and its health-giving benefits. Find out more in our tell-all blog…
Walking helps build stamina, burn excess calories and improve your physical and mental health. However, sticking to a healthy habit can be difficult to maintain.
Step 1: A Reminder
In order to remember to walk, you need some kind of physical reminder. For instance: after meals. By simply sticking to a regular schedule and adopting an evening stroll as a permanent aspect of your lifestyle, walking will become second nature to you. Speaking personally, my preferred method of releasing stress is simply to walk around in nature.
Which period of the day is your absolute favourite? Are you an owl or a lark? Choose your favourite time of day and make walking a habit then.
An excellent time to leave the house and go for a walk is when dinner is finished. The secret is to stick with it long enough. As a result, it becomes habitual.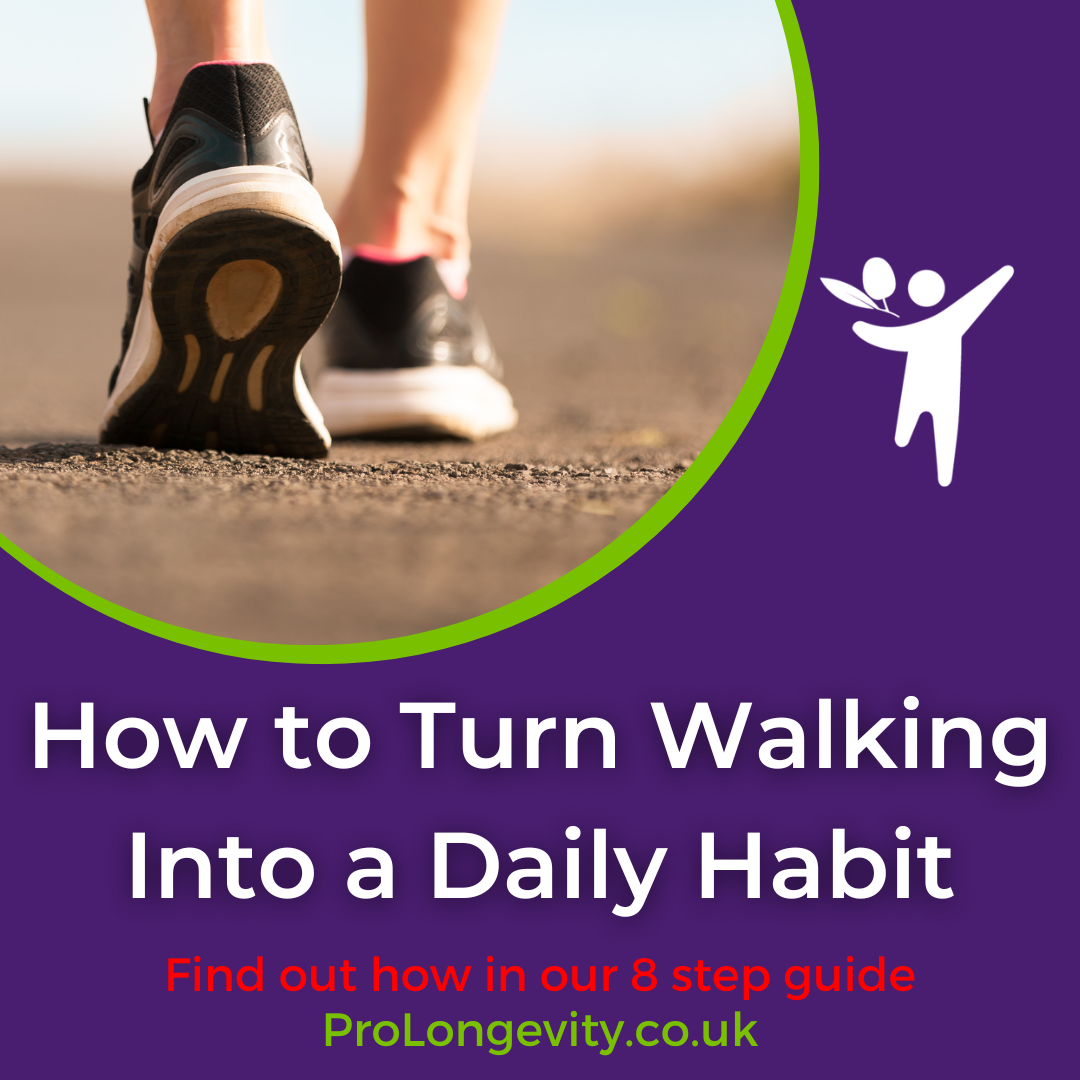 Step 2: Find your happy place!
Stress-relieving benefits of walking combined with a pleasant attachment with your happy place will make you enjoy this activity so much more.
Simply choose the location that holds the fondest memories and walk there. If you don't already have a happy place, we suggest choosing a location with positive experiences. A place where you walk your pet, or even the circuit where you won your first race.
You need to pick a place that allows you to relax and be happy outdoors.
Step 3: Follow the music's beat.
Create a playlist specifically for walking. On my walks, I love listening to classical music. So, link listening to good music while walking. You can develop a reliable walking habit by listening to upbeat music.
Which type of music do you prefer? Put together a playlist that is at least 20 minutes long. You will make sure to walk for at least 20 minutes each day as a result.
Choose 4-5 of your favourites, then play them every day until you become accustomed to them. Then repeat the process while including new songs. Within a month of beginning this routine, you'll have a solid walking playlist.
Step 4: Start moving
Once you've found your ideal moment, location, and soundtrack start right away.
Aim low. The first day, if you walk for 30 minutes, you'll come home with sore feet and a crushed spirit.
So, rather than pushing yourself, listen to your body. When you're worn out, stop. And then repeat each day.
Put your comfortable walking shoes on, grab a water bottle, and start walking. Just take a few laps while listening to your favourite music in your preferred location.
Step 5: Stop Before You're Exhausted
The hardest aspect of any trip is getting started. However, if you begin walking every day, you must also learn when to stop.
To break your own records is exciting. But if you push yourself too hard, you'll eventually quit.
Start small if you want to create a habit that will stick. You will give up if you push yourself too hard too quickly.
Make it as simple as you can so that all you have to do is get up and complete it.
Aim to walk daily for 10 minutes. Follow this routine for three days and then increase your time limit to 15 minutes.
Then add another 10 minutes in the second week. Walk for 25 minutes daily, without break.
In the third week add another 5 minutes and before you know it you will be walking 30 minutes daily within a month.
Step 6: Choose a partner
Now you could stroll by yourself with your thoughts. However, a partner can help you stay motivated to exercise. So find a partner that can encourage you when you're having a bad day.
Who among your friends inspires you the most?
Who among your friends is the healthiest?
So, find a companion. someone who is driven to prioritise their health with an unwavering dedication to keeping healthy habits.
Dog owners live longer! If you are struggling to find a human companion, what about a pet? Walking a dog is better at combating stress than strolling alone and reduces the chances of depression, stress and anxiety. They truly are man's best friends!
Step 7: Reward Yourself
Making habits enjoyable, simple, and rewarding help them to persist. Walking for 10 minutes a day will not provide any visible results. You lose motivation when you practise habits that take time to bear fruit.
You must add extrinsic rewards following this new behaviour if you want to avoid this demotivating early phase.
Every time you meet your monthly target, treat yourself to a book, an outfit, or maybe a pair of shoes. External motivation will help you persevere until you begin to notice actual results.
Step 8: Keep track of your progress
As you get started, be sure to note how many steps you walk each day. To determine the average amount of steps you take during your regular walks, you must keep a daily step record.
The number of steps you take is a major element that can truly improve your health. However, you are not expected to take 10,000 steps on your first day. On these walks, aim to take at least 3000 steps each day initially. To get to the target of 10,000 steps, gradually increase your step count.
In today's advanced technological world, there are numerous apps, watches and smartphones that will keep count of your steps. Simply download a fitness app to help you meet your daily walking goals.
In fact, the NHS has a 'Couch to 5K' fitness plan to help you get started. (View here)
Conclusion
You too can form a daily walking habit that can boost your productivity and help you live healthy for longer today!
So, start today: To plagiarise the famous Chinese proverb: "every journey begins with but a single step"
ProLongevity is a program that works through a detailed analysis of what triggers you to experience blood sugar spikes.
ProLongevity can help you lose weight, live longer, and reverse life-limiting diseases, including prediabetes, type 2 diabetes, cardiovascular disease, and even dementia.
Multi-award-winning ProLongevity is a 90-day program that puts effort into preventing and reversing such deadly conditions with virtually zero risk or side effects.
Book your free 15-minute consultation with our founder, Graham Phillips and we can start your journey today.
How to Turn Walking Into a Daily Habit