Introduction
As Christmas approaches, people will prepare their favourite festive treats. Mince pies are very popular (not to say yummy!) treat for so many people at this time of year. However, there is some bad news for those who love mince pies, as they can contain incredibly high levels of sugar which is unhealthy leading to weight gain, obesity and diabetes.
Mince pies are a popular Christmas treat, but most people are unaware of the amount of sugar in each pie.
Mince pies are a traditional Christmas dessert which is incredibly popular in the UK, but most people are unaware of the sugar content. Mince pies are small round pies with a sweet filling made with mincemeat, usually containing raisins and dried fruits. They can be eaten hot or cold and have a pastry base all dusted in sugar.
Mince pies have a frighteningly high sugar content due to their sugary fillings such as golden syrup and candied peel, as well as being covered with icing sugar on top… and of course the pastry itself!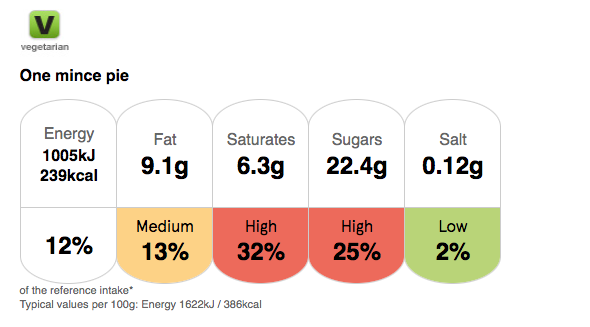 (Tesco Finest Mince Pies 6 Pack)
Mince pies normally contain over 5g (that's a teaspoonful) of sugar and carbs per pie, but Tesco has a whopping 22.4g (nearly FIVE teaspoonfuls) which is unnecessarily high and truly bad for your health. Some Mince pies are unhealthy not just because of the sugar levels but because they are ultra-processed. Eating them will cause sugar spikes, weight gain and raised insulin. By regularly eating a diet high in carbs, sugar, and processed foods you are almost inevitably going to give yourself diabetes.

Above is the ingredients list of the aforementioned Tesco's Finest! Eating food like this that seems like it was developed in a chemistry lab, you are depriving your body of real food. You can identify ultra-processed food by looking at the extensive list of ingredients – if it has various chemicals you don't recognise, it is not real food. AVOID!
This is bad for your health and will most likely lead to obesity, diabetes and…..the list goes on.
How much is too much?
The NHS recommends "Adults should have no more than 30g of free sugars a day, (roughly equivalent to 7 sugar cubes)." But we, at ProLongevity, reckon 30g is still too much. So if you want to stay healthy it's important to keep an eye on how much sugar your food contains!
Many factors can contribute to excess weight including eating patterns, physical activity levels, sleep routines and stress. Social determinants of health, genetics, and taking certain medications also play a role. So it is important to make healthy lifestyle choices that can contribute to living longer.
Find out how to live healthily as you age here!
Sugar is often hidden in our foods for example manufacturers will add several different sugars so the level of anyone sugar seems low. Look out for high sugar content in snacks, desserts, and fizzy drinks. Excessive sugar intake doesn't just lead to obesity and diabetes: It can cause several other health problems like heart disease, stroke and even some cancers. Some experts even call Dementia "type3 diabetes"
To learn more, read our blog: Everything You Need to Know About Alzheimer's Disease and Dementia
Eating too much sugar will also increase your risk of tooth decay, especially if you eat sugary foods between meals or snacks rather than at meal times when they have a chance to be digested slowly by the teeth before brushing.
Beware of the sugar content in your favourite Christmas recipes. Sugar is addictive, so you'll want to limit your exposure to it. It can also make you feel tired and lethargic which makes it hard to focus on your work or study "brain fog"
So is it all bad news and are we at ProLongevity just a bunch of killjoys?
Conclusion
Why not try this healthier alternative to get you into the Christmas mood without feeling guilty? Our good friend Dan Greef has created Christmas Keto Mince Pies that are tasty and come without the risk of damaging your health. As a special treat from us, use Pro20 at the checkout for 20% off.
Or if you are looking to cook healthy options of the Christmas classics, interested in cutting out sugar and especially following a low-carb, keto or paleo diet – You should try Katie Caldesi's bestselling book. 'The Caldesi Low-Carb Christmas: Celebrate with 40 Low-Carb and Gluten-Free Recipes. You can purchase it on amazon here.
Sign up for ProLongevity Gold and you will gain a 1-year free subscription to Diet Doctor which includes thousands of recipes to coach you through the Christmas and new year period! We hope that you found this article helpful. If you have any questions or comments, feel free to contact us here.
Mince Pies make for an Unhealthy Xmas!