Our Associates - Xtend-Life

Omega 3/ QH Premium
Pure and effective Omega 3 with the highest quality bio-available CoQ10 for optimum heart health support.
Key Features:
• New Zealand's purest fish oil formula contains concentrated tuna and natural non-concentrated New Zealand hoki.
• Contains Kaneka Ubiquinol™ (highly bio-available form of CoQ10), which may help to boost energy, reduce free radical activity and replenish natural CoQ10 levels in the body.
• Support critical CoQ10 levels when taking cholesterol-lowering drugs.
• Contains Lyc-O-Mato® lycopene and AstaPure® astaxanthin to rejuvenate cells and enhance skin appearance by targeting aging.
• Plus all the benefits of a quality fish oil such as inflammation management and support for heart, joint, brain and eye health.
To purchase Omega 3/ QH Premium (manufactured by Xtend-Life) you can email debbie.martin@manorpharmacygroup.co.uk and we will be in contact!
What does Omega 3/QH Premium do:
• Boost energy in your cells, support optimal energy levels.
• Support healthy blood pressure levels and healthy heart.
• Maintain brain health and function.
• Support healthy muscles, resist the aging process in your body.
• Free radical support for healthy skin.
Recommended User:
• Omega 3/QH Premium is suitable and recommended for adults 40 years and over to help replenish CoQ10
depletion that occurs with age.
• Recommended for people who require cardiovascular support, may be taken in conjunction with cholesterol
lowering drugs after consultation with a health practitioner.
• The product is also recommended for people (40+) who are interested in improving their skin, eyes and hair.
(An alternative fish oil is available without the CoQ10 content, which is suitable for people in their 20-40s.)
Instructions:
• Servings per bottle: 30 (Adults – 2 to 4 soft gels).
• Can be taken at any time with or without food, together or at different times of the day.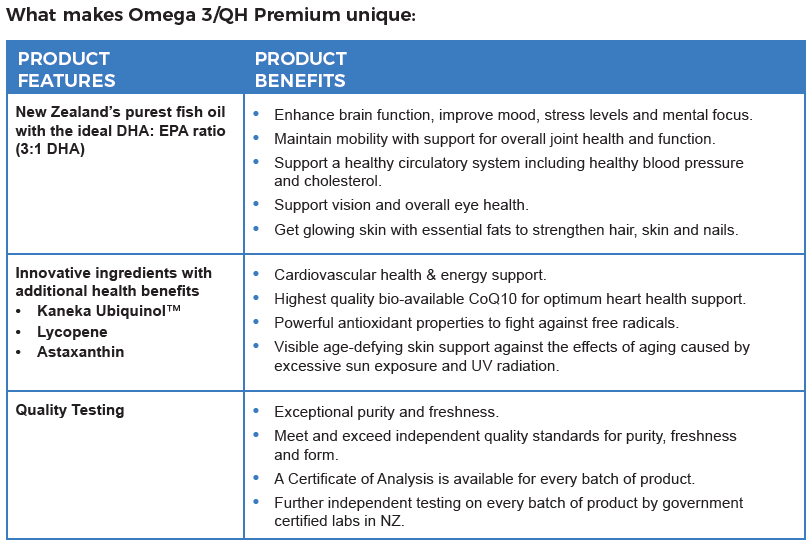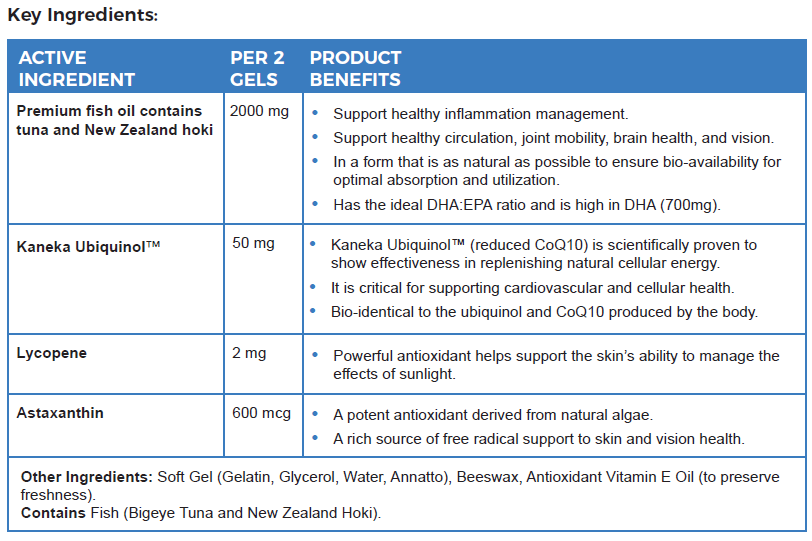 Please email debbie.martin@manorpharmacygroup.co.uk to place your order and we will be in contact!