Bob Dylan 1966
Boris Johnson 'turning back clock' on obesity fight with 'sin tax' review
Boris Johnson has been accused of "turning back the clock" on the fight against childhood obesity with his pledge to review so-called sin taxes.
The frontrunner in the race to become prime minister came under heavy criticism after promising to review the taxes, including the levy on sugary soft drinks introduced in April last year.
The Tory MP on Wednesday defended his pledge not to introduce new sin taxes or increase current levels unless a review concludes they are effective and do not unfairly hit those on low incomes.
Press Association 3rd July 2019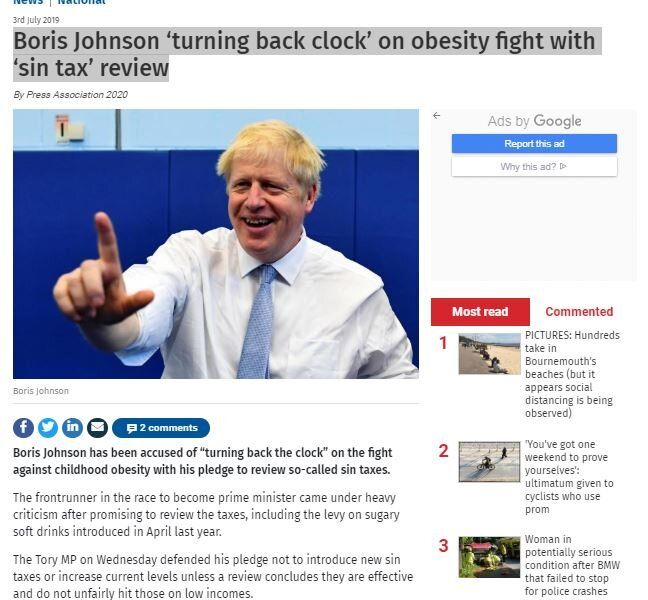 Boris Johnson launches a new battle of the bulge
THE PRIME MINISTER'S EXPERIENCE OF COVID-19 HAS PERSUADED HIM OF THE URGENT NEED TO TACKLE BRITAIN'S OBESITY PROBLEM
James Forsyth
"I've changed my mind on this. We need to be much more interventionist," Boris Johnson declared in a conversation last week with some of his most senior ministers and advisers. The subject: obesity.
Thursday May 14 2020, 5.00pm, The Times
"Only a few months he was saying we only needed to follow him and jump onto our bikes! After his dreadful experience with COVID-19 he seems to have learned that you can't outrun a bad diet." Graham Phillips
The Times They Are a-Changin' – Childhood Obesity