Wegovy, a glucagon-like peptide-1 (GLP-1) receptor agonist, which works by increasing the production of insulin and reducing appetite. However, the side effects it has on the patient needs to be taken into account.
For more information on how Wegovy works, give our previous Wegovy blog a read.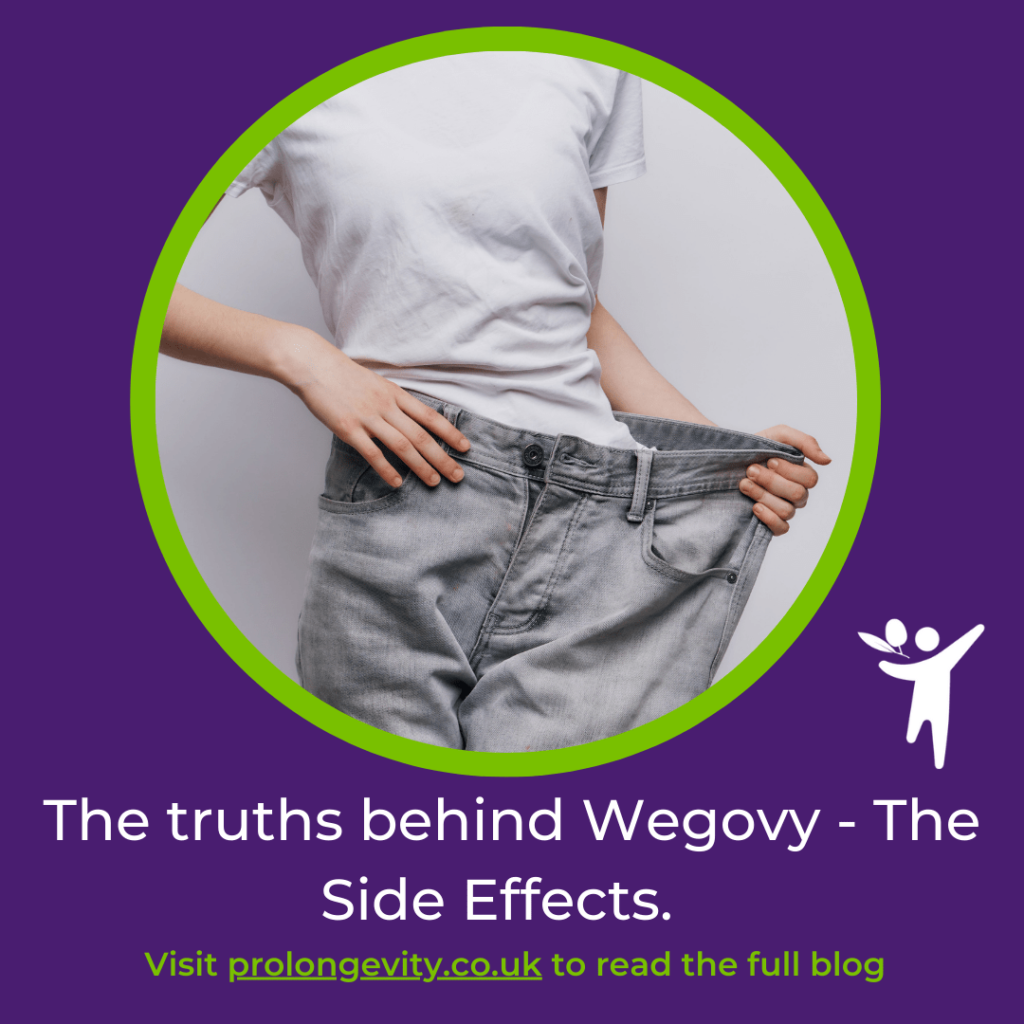 Like most medicines and treatments, there are side effects. All side effects could have varying durations and severity and like all medications, may not affect all. However, while losing weight, the side effects could burden your health even more.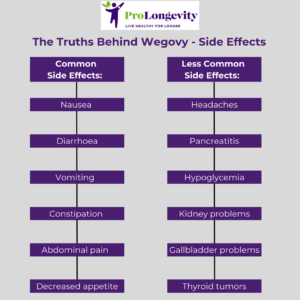 Just like ProLongevity, there is no 'one fits all' cure for weight loss and diabetes, but all patients can work with lifestyle changes to help their overall health and to lose weight. That's why the ProLongevity approach is "precision nutrition", NOT one-size-fits-all.
The ProLongevity weight loss and nutrition programme is a simple, tailored system that is clinically proven to reduce harmful blood sugar spikes & reverse major health risks. The drug-free programme not only fuels your body in a way that is truly healthy for you but there is no calorie counting and no hunger. Just simple, stepwise changes to your diet and activity that work for you, your biology, and your
Wegovy which has increased popularity and awareness in the UK as 'the supposed miracle drug', has however some important considerations to keep in mind.
The cost of Wegovy can be a barrier to access for some people, as it can be quite expensive. With a likely launch price of £73.25 for a month's supply, that's a whopping £1,758 after two years. Also, the Wegovy jab could be supported by the Boots Online Doctor, so regular check-ups, usually priced as additional services, are an added cost.
It is also not a magic solution. While Wegovy can help with weight loss, it is not a magic solution. People who take Wegovy must still make lifestyle changes, such as following a healthy diet and exercising regularly, to achieve and maintain weight loss. In addition to this, many of those who stopped the medication would see a regain of weight. One study shows 327 participants who took Wegovy for 68 weeks to lose weight, regained that weight within one year of stopping the drug. Wegovy is not a short-term quick fix. It is a long-term drug that requires more than just taking the injection.
The long-term effects are unknown. Wegovy is a relatively new medication, and its long-term effects are still unknown. It is important to keep this in mind when considering whether to take Wegovy.
It is not appropriate for everyone. Wegovy is only approved for use in adults with a body mass index (BMI) of 30 or greater, or in adults with a BMI of 30 or greater who have at least one weight-related condition, such as high blood pressure or type 2 diabetes.
Wegovy isn't a cure. While some may experience some benefits, it still does not tackle the underlying issues which have caused the weight gain, I.e., mental health, lifestyle and overall health.
In comparison to ProLongevity, our weight loss, lifestyle, and nutrition programme and coaching give you the lifelong tools you need to lose weight, this drug-free method allows you to stay healthier for longer. Not only this, but we also help to reverse type-2 diabetes and reduce your risk of life-limiting health problems, including dementia & heart disease. ProLongevity provides expert knowledge, service and personalised for you. Our main goal is to help to live healthier for longer.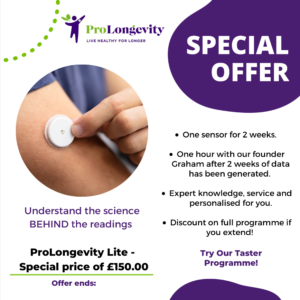 Our New special offer, "ProLongevity Lite" Programme allows you a taster of what changes you can make to live healthier and longer. Having the benefit of our founder's knowledge, service and personalisation to you, you could have TEN extra years of healthy life to spend with your loved ones.
Anyone can have the data, but not everyone can help you change your life with that data. What value would YOU place on ten EXTRA healthy life-years
For more information, fill out the contact form and we would love to help you!
The Truths Behind Wegovy – Side Effects