Dr Aseem Malhotra, one of the UK's leading anti-obesity campaigners, says the Government is still appeasing the food industry and focusing on wrong things
"Our best defence to protect people's health is improving metabolic health by changing diet. But there's no money to be made from that, so there's no focus on it."
Data from the US shows that only one in eight people are metabolically healthy. We haven't got the data here but it's likely to be something similar, which means that the majority of adults in this country are at risk and they don't even know it.
"Boris needs to stop appeasing the food industry and stop these gimmicks where he's focusing on exercising. Instead, he should be putting all his efforts saying this is a diet problem."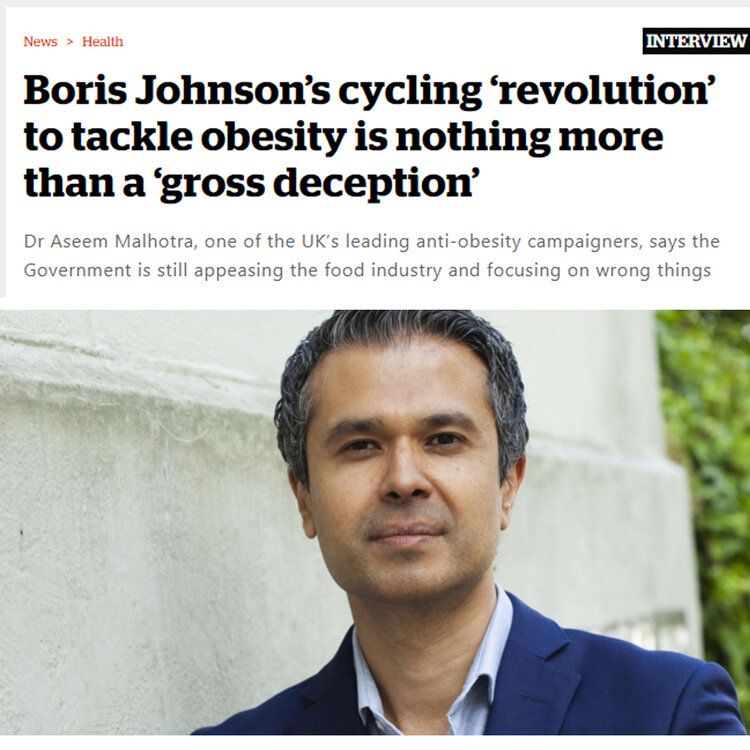 The ProLongevity service is the answer to many of our health problems in the UK. Instead of relying on exercise we prioritise your diet and the nutrients which truly nourish your body which help you to maintain a healthy weight and also improve your immune system to fight off Covid-19.
Our bespoke service gives you a personal, health-professional coach who works with you to establish what foods and drinks are truly healthy for you, as well as the ones to avoid. We help you establish and introduce healthy lifestyle choices. These are a series of small, incremental life-style changes to improve your diet and general wellbeing. There is none of the typical calorie counting or hunger associated with normal dietary advice. Instead we gradually replace the foods which spike your sugars with others that don't but are full of essential vitamins, minerals and nutrients.
You Can't Out Cycle A Bad Diet